Why can't you ship the Shocker to my state?
While no state explicitly restricts or bans the sale of the Shocker by name or function, some states do have legislation that restricts or bans the sale or possession of devices that can alter or increase the rate of fire of a semi-automatic firearm, regardless of the intent or nature of the design. Please contact your legislators or a lawyer in your state for more information or clarification as we cannot provide legal advice or council.
Will the Shocker work with [insert trigger brand or model here]? Maybe? There is no effective way to test every single trigger on the market. We have seen it work on some flat blade models, but some curved triggers have radii that are just too curved to work. It was designed for Mil-Spec triggers, so if you want to use an aftermarket trigger, some modification may be required.
My Shocker doesn't quite fit. What's up with that?
The Shocker is designed for use with Mil-Spec triggers on Mil-Spec receivers. Some receivers have slight variations in the radius of the trigger guard area which prevents the Shocker from being seated all the way. Refer to the picture below and remove the part of the curve indicated by the red highlight with a file, knife or Dremel.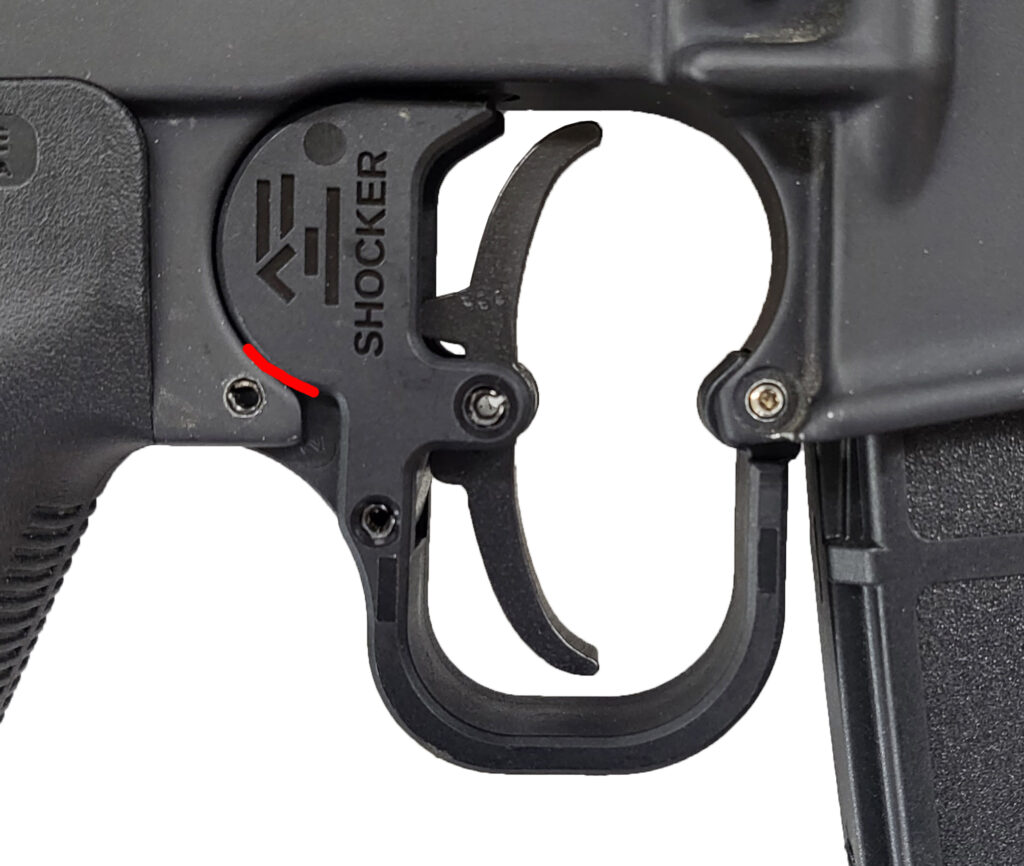 Will your bullpup kits fit [insert model here]?
There are literally dozens of AK variants and we can't possibly test all of them to ensure fitment. Some of them might work, some of them definitely won't. What we can guarantee is fitment to the model that is specifically named in the product title and description.
Will you make a bullpup kit for [insert model here]?
Possibly. We are working on many different designs and will be releasing kits as we are able for as many models as is practical. We are working on the most popular models first, so we might not get to that obscure variant you have in your collection. Some models coming up include full size AKM's, M70's, Draco's, PSA variants.
I ordered a bullpup kit. When will it ship?
Due to overwhelming popularity, we have been running our machines 24/7 in order to get them out as fast as possible, but we're still backed up about two weeks. We are catching up though! You will receive a notification when your order is processed and then a separate notification when it ships.
Do you do custom design or production work?
Yes, absolutely. We work with a number of popular brands and manufacturers to develop new products and designs. If you want to work with us on a design for production, contact us through the form on the Contacts page.
Do you do custom 3D printing?
Yes. We use SLS printers to provide durable and functional Nylon prototypes, production parts and custom designs at affordable pricing. Please contact us through the form on the Contacts page for more info.
Why are you guys so sexy?
In the words of Lady Gaga, we were just born this way.